Karens family in Norway – tips and tricks
Karens family in Norway – tips and tricks

In "The Genealogy Society of Norway – DIS" (Norwegian name: "DIS-Norge") we have a wonderful service for our members, called DIStreff.
The norwegian word "treff/e" can translate into several meanings:
1. Å treffe = (to) meet
2. Et treff = (one) hit
3. Å treffe= (to) hit
4. Et treff = (one) meeting
All our members are welcome to send their gedcom file to the DIStreff-contact in their region. The gedcom file will be merged into the existing database, and the members gets an e-mail with information in return. Including a list of members working with the same persons/farms/areas!
I use this service to find my own family, but also to help others to find their norwegian relatives.
When working on Karens family, I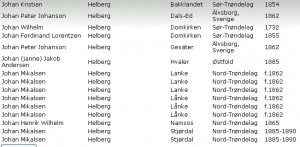 searched for all of the names I had found, and especially Helberg made a hit! So nowI canl send an e-mail to the person that donated his gedcom file into the database, to see if he knows if Karen has any living relatives in Norway!