What a great christmas-party/meeting!
What a great christmas-party/meeting!
Have to do this in english, as I have to give link to the Englewood Genealogical Society!

I don't know the names of all the people, but i know the names of the two in the background! Me talking with my arms and legs, telling Dottie about our query board, and that I have put out a query on her family!
What a wonderful bunch of people! It was great to meet them all, and of course, especially Gladys with 100% norwegian blood in her veins – Nannestad and Hedalen in Valdres, Dottie with her more blue/yellow blood (swedish) and Sue with her Oslo/Buskerud ancestors.
My husband Per and Gladys – the proudest 100% norwegian!
I really looking forward to our meeting January 5th – I will bring my resources, subscriptions, cds and knowledge on norwegian and swedish research! Hopefully we will get help from the norwegian DISchat and Slektsforum, if we need more help than I can give!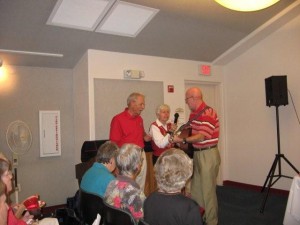 This was a christmas-meeting, and we did both Jingle Bells, Rudolph and other well known christmas-songs! Great guitarplayer (and microphone-holder!!!!)
Since I knew that several of the members of Englewood Genealogy Society have swedish ancestry, and I had a book in my private library called «Your Swedish Roots», I planned to give that book to the society – and I am really happy I brought it! On the picture, Sue – the president and me. (Enjoy Dottie, and happy hunting, and have a wonderful cruise!)
Sue is a 50% norwegian – and by definition a wonderful person! Her ancestry from Norway is now to be found. I have already found where her Horgen-folks came from, Eiker in Buskerud! Any takers out there? And she also has Bjerknes, I have found a lot, just a few brickwalls to be climbed before her ancestral chart is filled with norwegians!
Looking forward to the meeting with all the great people on January 5th!! I am from that date a member of EGSF – so I assume that Sue of course will be a member of our society – and then we can start DIS-Florida!