How I found Glorias family in Norway.
How I found Glorias family in Norway.
One of the members of Englewood Genealogical Society of Florida Inc, Gloria, has norwegian blood in her veins. Telemark-blood to be correct.
She had the following on her gggfather:
Ole Thorsen, born April 1850 in Skien, Telemark. He was possibly a sailor. Settled in Illinois.
Parents: Christian Thorsen and Marie Olsen.
Married Johanna Marie Backen (Andersen) born in June 1851 in Larvik, Vestfold. They one son Charles, born in August 1879 and one son Henry born in October 1884
At one point they had lived in a Lighthouse in Grosse Point, Cook Co. Illinois.
Gloria had found the family in the 1880-census, but not in other censuses.
This in the way I found the family.
1. I looked through the churchrecord for Skien, Telemark to see if he was born/christened there (188-1852). No result.
2. I went to Familysearch, and did a quick search for one Ole Christiansen, son of Christian Thorsen and Maria Olsdatter, and I found one candidate that fit just purrfect.
---
This looked like a really good candidate.
3. Back to the churchrecords, and I found this christening (no. 51 the last one on the page to the left). Click on the picture, and you get a larger image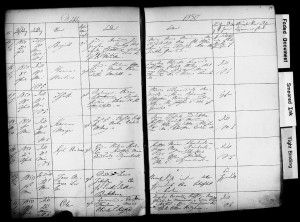 4. I needed a confirmation, and some local knowledge, and put out a query on the DIS-Norges queryboard for Porsgrunn (todays area for Solum). And I got it confirmed, the person I had found in Solum emigrated in 1870! (See the name in the red square)
I have not found him in the emigrant-records yet. But this confirm the findings on Ole!
This is Ole and his family on a tenant farm under Rugstad Solum, Telemark in the 1865-census, with his parents and sister!
—
Ole changed his last name to Thorsen when he came to USA. Gloria has been working on the censuses for a long time, to find Ole and his family. No wonder she did not find him! Look at this indexing:
This is surely the Thorsen family – click on the image, and you will se a bigger image. Also, the birth years on Ole and Mary are off, but the months are right.

How I found them in the census-index:
First name: Henry (no last name)
State: Illinois
Birth year: 1884 – +/- 2 years
Fathers given: Ola (first I tried with Ole – no result)
Mothers given: Mary (first I tried Hanna and Johanna – no result)
I got this search result:



No wonder Gloria did not find them!