We wish you a merry christmas…
We wish you a merry christmas…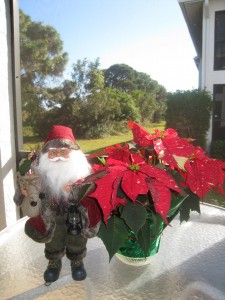 This Santa is very special. It has been travelling over «the Pond» 3 times. First as a gift from good friends Liv & Bjørn. They wanted to send us a christmasgift last year. From Norway to Florida. We never got it! It was returned to sender, address unknown….
Then – Liv got it back, and she gave it to us in Oslo before last Easter. We decided that this Santa belonged in Florida, and brought it with us in our suitcase (not a very christmassy way of travel for a Santa, but…
So, now he is here, as the only christmas-thing we have in our condo!
With this little story I want to say:
Merry Christmas to all readers of my blog!
Happy holidays!