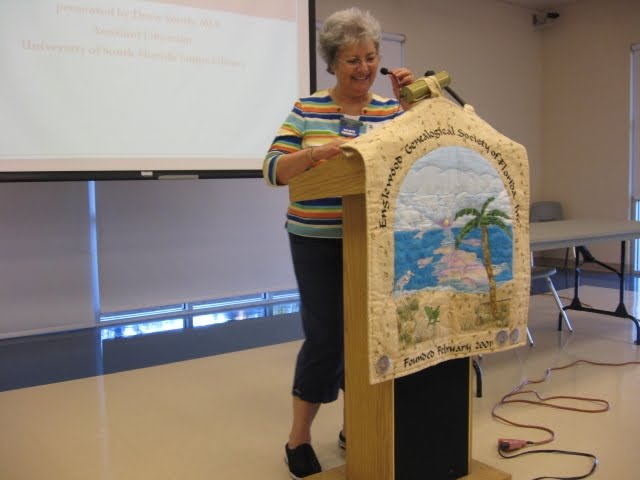 Social Networking – for genealogist part 1 (LibraryThing)
Social Networking – for genealogist part 1 (LibraryThing)
Sue Davis, the President of Englewood Genealogical Society opening the meeting,
and introducing Drew Smith
Drew Smith is an academic librarian with the
University of South Florida in Tampa
. He told us about what is out there for us crazy ones. Us geneaholics. (He is one of «us» – Drew Smith is an expert in digital genealogy, and he has a great
genealogy-blog
with lots of interesting and educational articles. He is a regular contributor to
Digital Genealogist
, and is co-host of the
Genealogy Guys Podcast
. He was really interesting to listen to, and I am going to take the time to listen through the podcast-archive one rainy beautiful day. Looks like a lot of interesting stuff there!
Drew has written a book – Social Networking for Genealogists, and I have already gone through it to see what I really want to look into. (he also has a blog about that here)
One site Drew talked about, (he talked a lot about many sites) was the LibraryThing.com. This site has been there for a while, but I never really got into it. After listening to Drew for a few minutes, I thought: this must be the ultimate site for a bookworm like me, with lots of bookworm friends! To share what we have in our «dusty caves of wisdom» around the world. I have tried it out some, put in around 50 books now, changed collection-names, tagged, searched and really had fun with it. Seems like a great one! I have now signed up for a lifetime membership ($25) and will put out my whole collection of the genealogy books I have. And, the very cool thing, I can find others that might have a book , to ask for a lookup! That is Social Networking for us!
A new book for my collection – the first book added in the LibraryThing.com
In the front row!
Pictures: Sue and Gene