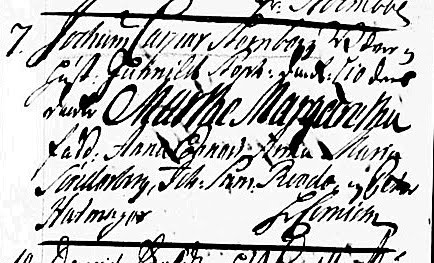 Karens family in Norway – part II
Karens family in Norway – part II
After working a few hours on Karens norwegian ancestry, I have found some interesting familynames.
1. Helberg/Heltberg
2. Sternberg
3. Blytt/Blyth
4. Hesselberg
The most exciting thing about the research, is that I have found at least 3 generations in Oslo/Kristiania, and that is not to common. Oslo/Kristiania had a huge immigration from the countryside during the 1800s.
I have found churchrecords that confirm this:
Generation 1. Albert Martin Heltberg Thoresen born 1852 in Kristiania – his father:
Generation 2. Edvard Theodor Thoresen born 1826 in Kristiania – his mother:
Generation 3. Elisabeth Helberg born 1799 in Kristiania – her mother
Generatoin 4. Martha Margaretha Sternberg born 1764 in Kristiania
I am looking forward to send Karen all my findings, I think she will be really excited about this. Some details might turn out to be sort of a shock, but I am sure she can handle that!
This is from Oslo Domkirke/Vår Frelser church book Ministerialbok nr. 4 (1743-1786), birth/christening in 1764, Martha Margarethas' christening September 7th 1764 in Oslo Domkirke. Her parents Jochum Caspar Sternberg and Gunhild … help anyone?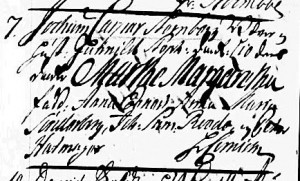 Source information: Oslo county, Oslo Domkirke / Vår Frelsers menighet, Parish register (official) nr. 4 (1743-1786), Birth and baptism records 1764, page 382-383.
Permanent pagelink: http://www.arkivverket.no/URN:kb_read?idx_kildeid=7233&idx_id=7233&uid=ny&idx_side=-188
Permanent imagelink: http://www.arkivverket.no/URN:NBN:no-a1450-kb20061005010365.jpg